Ginger Goff is a Charlotte girl – born and raised. These days, you can find her and her husband, Gregg, happily running District 5 Interiors at Waverly. Goff attended Central Piedmont Community College with plans to become a dental hygienist and worked as one for seven years in uptown before deciding to make a career transition.
"Being in one room all day drove me nuts, and I wanted something that was more creative," she said. "It was hard to do something so repetitive all the time."
In the early 2000s, Goff found herself starting a wholesale shoe company in Hilton Head with her husband called Ginger Goff Collections. Gregg's degree in business from Appalachian State University and past work experience in sales for Candie's and Sam & Libby proved useful as she focused on designing the shoes.
"I just saw things in color instead of numbers," she said. "I would sketch and draw a lot, and when we had the shoe company, I would draw all my own shoes."
The reality of the 2008 economic crisis meant boutiques were closing up all over the country. The Goffs retired from the shoe business after five years. Traveling to China frequently to visit their shoe factory had also become tiring. They returned to Charlotte where their only son Greg started classes at Providence Day School.
"We'd always been in fashion, and we were bored without the shoe business," Ginger said. "We decided to go into fashion for the home to allow us to stay in one place and be with our son."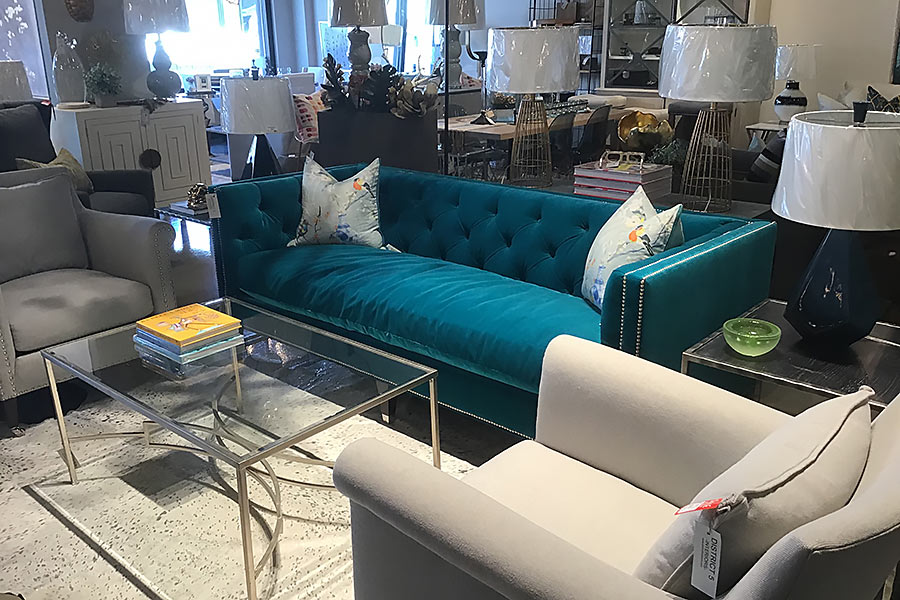 In 2008 the duo opened up Details Home Boutique. The success of that business propelled them to launch District 5 Interiors' uptown location off West Morehead Street in 2013, and the Waverly location followed in 2017. The Waverly store specializes in affordable home goods and décor while encouraging Charlotteans to add style and creativity to their personal spaces. From cozy living room furniture to striking lighting options, the store helps customers express their personalities through interior design.
"We get a lot more interior design consultations because of the new homes being built out there," she said of the Waverly area. "They are larger homes than the ones in the city of Charlotte. You get more home out there, and people get out there and don't know what to do with all that square footage."
The Goffs have hired interior designers to assist them. Ginger prefers to put her organized mind to use working on the business side of things, keeping track of purchase orders and inventory.
"District 5 Interiors is a wonderful addition to Waverly because it adds a varied array of home décor ideas for our shoppers," said Bonnie Little, senior property manager for Childress Klein, which manages Waverly. "Everyone who walks inside is swept away by the dynamic color combinations and beautiful furniture.


This spring, expect to see bright pops of color that bring life and happiness to subdued neutrals at District 5 Interiors. To that end, the store's number one selling sofa at the moment is lime green velvet. The store also places a special emphasis on inviting customers to customize sofas and chairs by picking their own upholstery. It focuses on not creating showrooms where everything matches, preferring to be more eclectic.
"We're all about customer service. We have something for just about everyone and not just at one price point, so we can help whoever comes in," Ginger said. "We get to know the people who come into the store, and the customers become like family. We've been seeing the same people for 10 years and we've been in a lot of homes to help with deliveries and interior design. We want to give that personal touch."
District 5 Interiors is located in Waverly at 7314 Waverly Walk Ave., Suite E4. Follow them on Facebook and Instagram.