By Théoden Janes, The Charlotte Observer | April 26, 2017
The new Ted's Montana Grill at the burgeoning Waverly development near I-485 and Providence Road is not, you should know, the first business that Ted Turner has owned in Charlotte bearing his name.
"I once owned a TV station here. The NBC station. Got $20 million for it," said the 78-year-old billionaire, who indeed claimed the network's Charlotte affiliate – then WRET, for his initials: Robert Edward Turner – as part of his portfolio from 1970-1980. "That was the money that I needed to start CNN. Carried me for about six months till I got another loan."
The difference this time around is that Turner isn't using Charlotte as a stepping stone to bigger and better things. There were already 46 Ted's Montana Grills in 17 states – No. 47 officially opened at 4 p.m. Wednesday – and if this one finds success in south Charlotte's restaurant landscape, we'll likely see him double or triple down by bringing additional locations to other parts of the city down the road, he says.
Several of those 46 locations, by the way, are in the Southeast (including one at Durham's Renaissance Center, one in Tennessee, two in Virginia, and a whopping 13 in Georgia), so it's quite possible you're familiar with the concept.
If not? It can be summed up in one word: Bison.
"When I was a little boy, I read the books of how they were killed, from 30 million (in the 1500s) down to 200 (in the federal herd at Yellowstone National Park), almost extinct," said Turner on Tuesday night, fresh off a private jet from Atlanta and a fight with south Charlotte traffic, as he sat on his new restaurant's patio next to Ted's Montana Grill co-founder George McKerrow. "And I said, If I ever grow up and make some money, I'm gonna see if I can bring the bison back."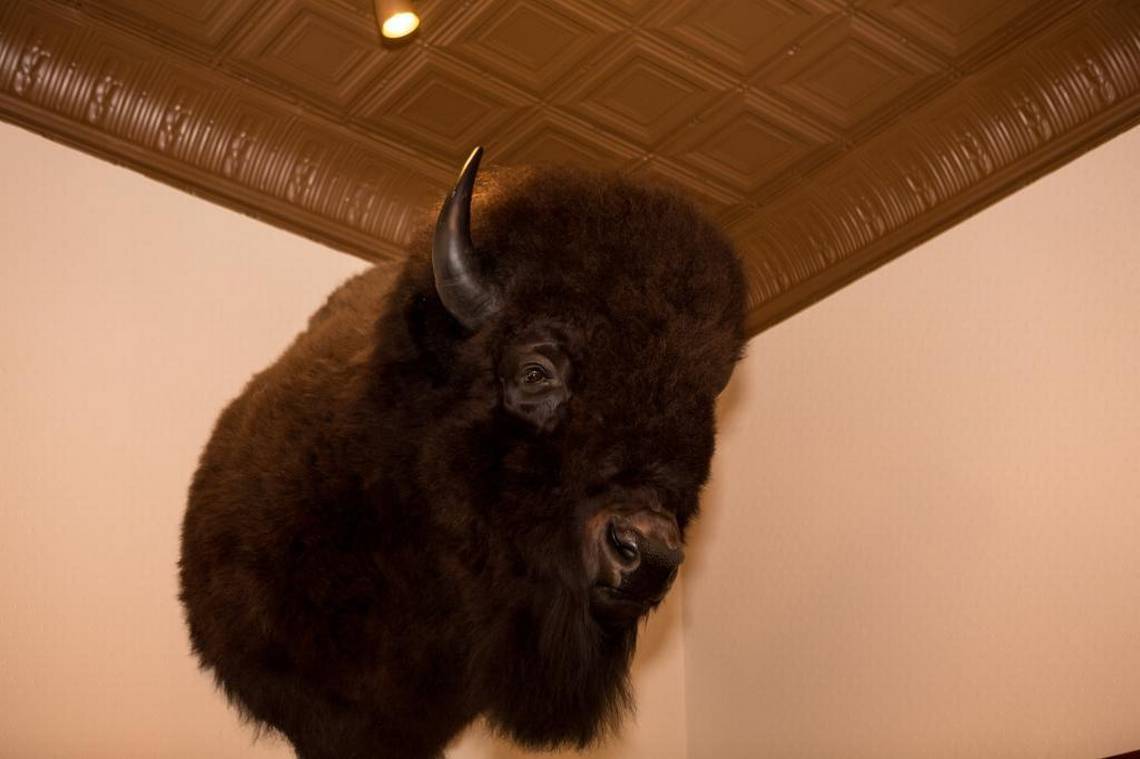 The bison head mounted in the rear of the dining room at Ted's Montana Grill in the Waverly development of south Charlotte.
Photographed by George Lainis.

Well, Turner did grow up and make some money – at one point, he'd amassed an $11 billion fortune, although now, he says, he's worth "only" $2 billion – and then made good on his promise: He is the largest bison rancher in the country (he currently claims 55,000 animals), and since founding Ted's Montana Grill in 2002 with McKerrow has come to be credited with saving bison by convincing people to eat them.
"We said, Let's create this restaurant chain, a group of classic American restaurants that features bison," said McKerrow, who also is known as founder of Longhorn Steakhouse. "We said, We'll put it on America's table the right way, and we'll grow an interest in it, and that'll create demand and that demand will turn into sustainability for the herd, for the ranches, for the Turner properties."
Translated from marketingspeak, that is to say, simply: It worked. Ted's Montana Grill and its menu of Bison Nachos, Bison Sliders, Bison Chili, Bison Meatloaf, Bison Burgers, Bison Pot Roast, Bison Short Ribs and Bison Steaks helped touch off a groundswell of interest in eating the animal that has seen the U.S. bison population double in size from 300,000 to 600,000, the partners say.
Here are the most notable observations, details and quotes collected during a soft-opening visit to Ted's Montana Grill on Tuesday night:
1. The restaurant – at 7404 Waverly Walk Ave. – officially opened Wednesday afternoon. Through Sunday, Ted's will serve dinner only. Starting Monday, hours will be 11 a.m.-10 p.m. Sunday-Thursday and 11 a.m.-11 p.m. Friday and Saturday. The restaurant is only closed one day per year: Christmas.
2. It is among the first establishments to open in south Charlotte's Waverly development, which will be anchored by Whole Foods Market (not yet open). Ted's neighbors will be Urbane South (a wellness spa), Via Roma (an Italian eatery by Charlotte restaurateur Augusto Conte, who in September closed Waxhaw's Trattoria Antica) and a new Viva Chicken; none of those are open yet. There's quite a bit of construction going on in Waverly, including in The Terrace – a planned outdoor dining and entertainment space – so the inside of Ted's provides a better view than the outside right now.
3. The space feels on the small side at 4,800 square feet, and we'd guess its 143 seats will fill quickly the first few weeks, so expect a wait. (When the weather is favorable, an additional 40 people can fit on the outdoor patio.) The sleek bar has a modern feel, but overall, Ted's look is classic: wood-paneled walls, tin-pressed ceilings, mosaic-tiled floors, reproductions of Bierstadt and Moran paintings (the originals of which are in Turner's private art collection), and a huge bison head mounted high on the wall to the rear of the dining room. Tables were full Tuesday for the restaurant's final dress rehearsal – during which invite-only guests got a sneak peek at the menu – and the restaurant was noisy, but my dinner partners still managed to communicate without shouting.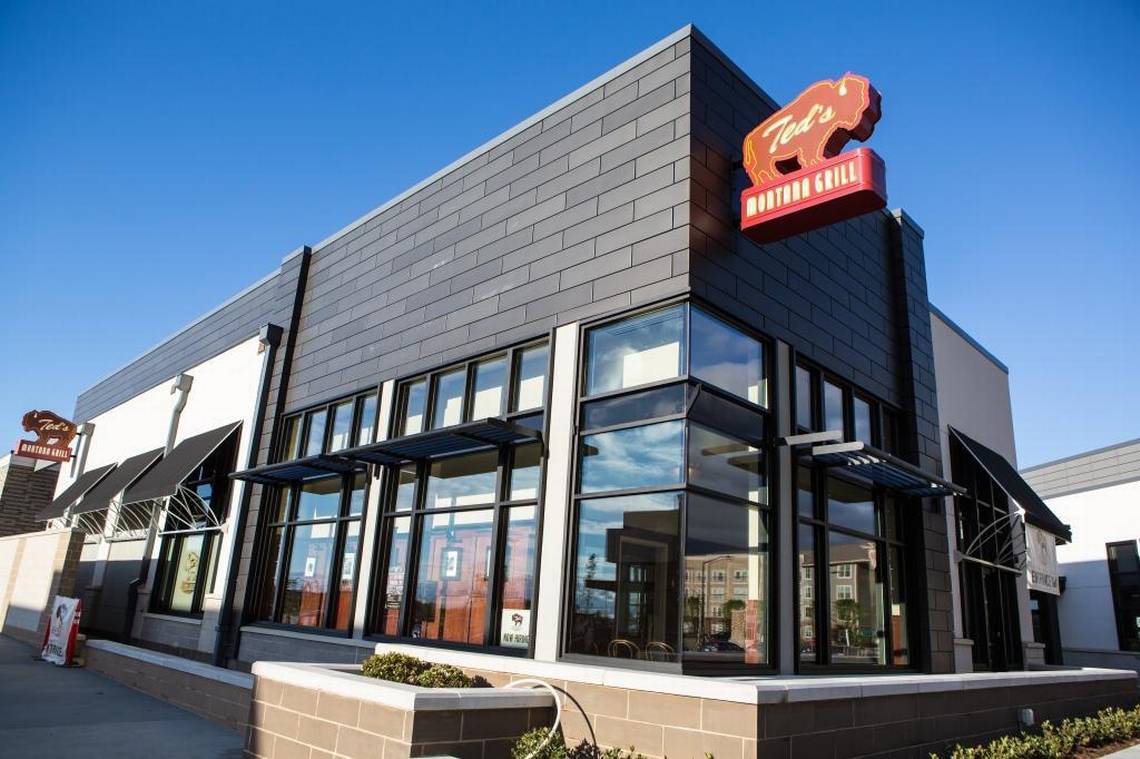 Ted's Montana Grill officially opens at 4 p.m. Wednesday in south Charlotte's Waverly development.
Photographed by George Lainis.

4. The benefits of bison are … well, here's what McKerrow claims: "Bison's one of the top five foods women should eat for iron replacement. A bison filet's richer in Omega-3 fatty acids than salmon. Less fat and cholesterol than beef, by about 50 percent, so it's not as heavy – you won't feel as full after you eat a bison steak or meatloaf or pot roast or a burger, because they don't have all the fat in it. That's the real secret."
5. If you prefer not to eat bison, there are lots of other choices on the menu: beef, chicken, seafood, salads without any meat or fish at all. There are plenty of gluten-free options, too.
6. "The only thing that goes in the freezer here," Turner said, "is ice cream. Everything else is fresh. Every day we make everything from scratch," in small batches. Most of the produce comes from either Burch Farms in Faison, or Scott Farms in Lucama. There is not a single microwave in the kitchen.
7. Turner and McKerrow are also proud of something you'd not normally expect a restaurant to be proud of: its straws, which are made of a rigid paper that – unlike traditional plastic straws – is biodegradable. Servers at Ted's place them on tables unwrapped, and pick them up and redistribute unused ones. "Those damn plastic straws are everywhere," Turner said. "And when you put the straw in the drink, the people gotta use it. It's gotta be thrown away. It's wasteful."
8. Turner and McKerrow agree on their favorite menu item: The bison cheeseburger with a side of fries. "We're cheeseburger-and-French-fry guys," McKerrow said. And how do they dress their burgers? They don't, Turner said. "No kind of sauces or spices. We eat 'em just the way they are. Before I got with bison I used to put both mustard and ketchup on my hamburgers, but it's been years since I've done that."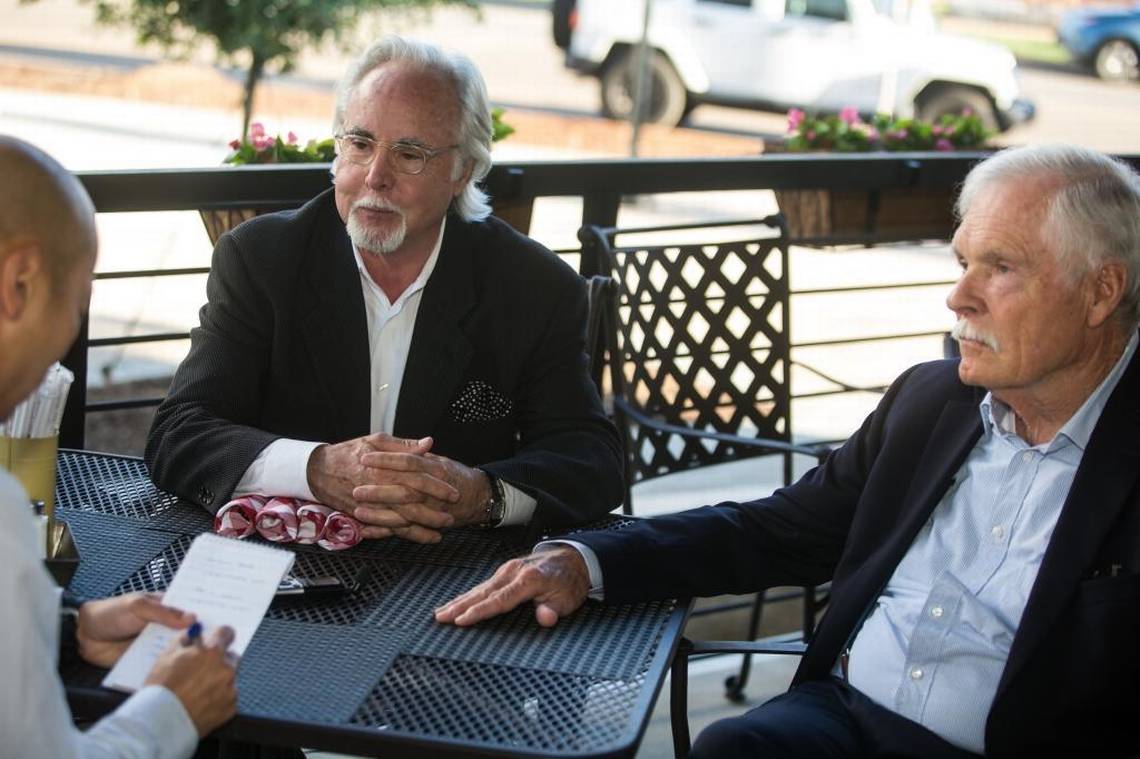 George McKerrow and Ted Turner are co-founders of Ted's Montana Grill, which now boasts 47 restaurants in 17 states.
Photographed by George Lainis.

Read the original article in the Charlotte Observer.