New Tenant PetPeople Announced for Waverly Mixed-Use Development
High-end pet store new to Charlotte market
Charlotte, N.C., Dec. 9, 2015 – Charlotte-based commercial developers Crosland Southeast and Childress Klein announced that they have signed PetPeople as a new tenant for the 90-acre Waverly development near the intersection of Providence and Ardrey Kell roads in South Charlotte.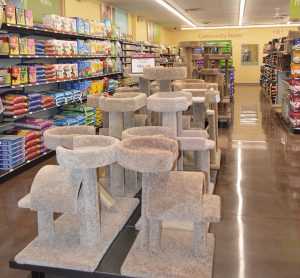 PetPeople will provide high-quality, natural, wholesome and nutritious pet foods and supplies in their 4,900-square-foot store at competitive prices, focusing on product quality, sourcing and product flow that affects the freshness of the products it sells.
"Our mission is to be the local market headquarters for high-quality, natural pet foods and pet supplies for dogs and cats," explained Trish Elkind, owner of PetPeople. "PetPeople is a family owned and operated business. As a smaller company, we recognize that we must work harder to earn customers' loyalty and trust which is why it is our goal to exceed customers' expectations on every visit."
"We truly believe that good nutrition makes a huge difference in the lives of our pets," said Elkind. "When we evaluate new foods for our stores we look at ingredients, the sourcing, and the nutritional value. We only carry products we believe in."
PetPeople currently operates 28 different locations in Ohio, Indiana, Michigan and Illinois. The Waverly location of PetPeople is one of two planned for the Charlotte region; the other location will be in Cornelius.
"Through our input from South Charlotte residents, we learned that having specialty pet-care options close by was a high priority," said James Downs, partner of Crosland Southeast. "We're thrilled to bring PetPeople to Waverly."